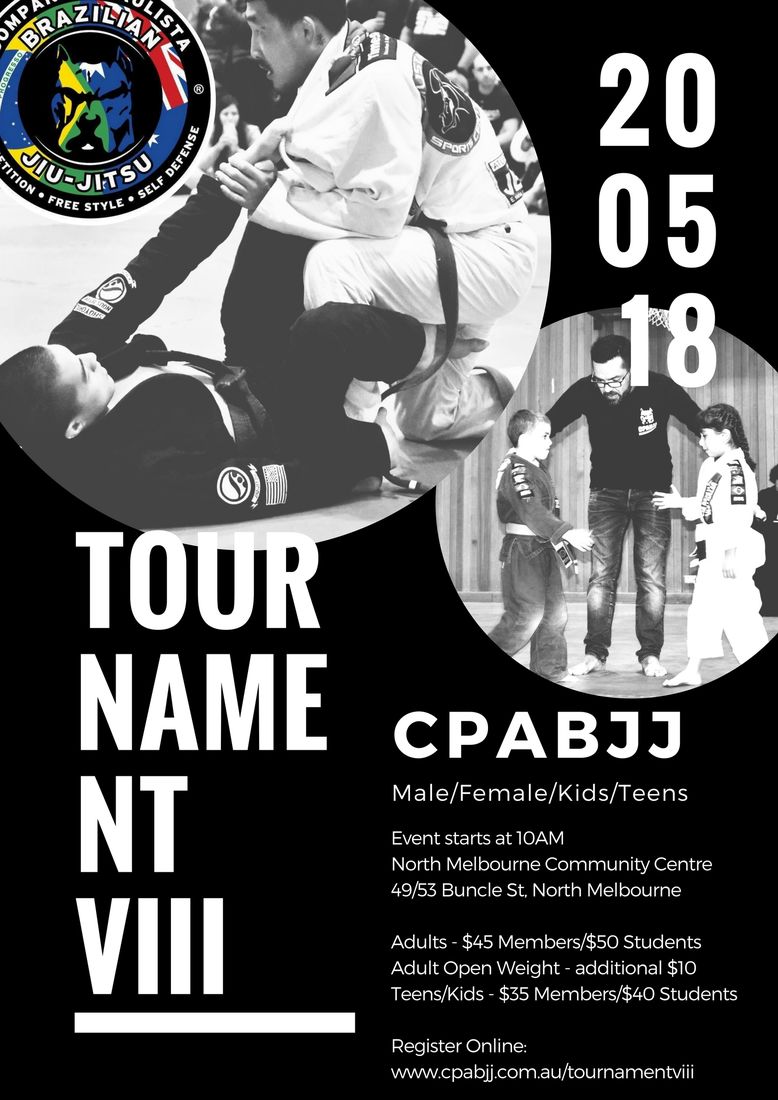 This year marks our 8th CPABJJ Tournament and also our biggest tournament to date with 130 people registering.
We put together this tournament to help improve our BJJ in a friendly environment. We expect and hope that all participate & support one another.
Medals to be awarded to all Mighty Mite, Kids, Teens, Juvenille, Adult and Master Categories 1st, 2nd & 3rd places. Open Weight will be awarded some special prizes including CPABJJ Gi, Rashies and Tshirts.
HELPERS NEEDED
Would be great to have all those who can help set up and pack up, we will be at North Melbourne Community Centre at 7:45am to start setting up, hope you can be there we really appreciate it.
Following are the details for the day;
CHECK IN/WEIGH IN PROCESS;
1) Check Competitor Brackets to see what bracket you are in
2) Head for the Weigh In Table, be sure to have your gi on to be weighed in.
3) Listen out for your name to be called to know what mat you are on.
4) Be ready for competition.
COMPETITOR LIST & BRACKETS
We have now finalised all the brackets for the Tournament. Please find your name on the Competitor List in order to see what bracket/s you are in. CPABJJ Tournament Brackets or check them out via our Events Page
EVENT LOCATION
This year's event is at North Melbourne Community Centre at 49/53 Buncle St, North Melbourne VIC 3051 in the Basketball Court.

SCHEDULE
Event will kick off at 9am and will run until approximately 5pm.
09:00 - Mighty Mite, Kids, Teens, Juvenille Weigh In
09:30 - Mighty Mite, Kids, Teens, Juvenille Brackets Begin
10:00 - Adult Female - All Belts & Adult Male Blue & Purple Belt Weigh In
10:30 - Adult Female - All Belts & Adult Male Blue & Purple Belt Brackets Begin
11:00 - Adult Male - White Belt Weigh In
11:30 - Adult Male - White Belt Brackets begin
FOOD & DRINKS
We will be selling water and some merchandise on the day, however, as there are no food outlets close by we have organised cafe2U to come around and make available some food, snacks and drinks on the day. Of course you are welcome and we encourage you to bring in your own food.
FURTHER READING - IBJJF RULE BOOK
For those who want a little bit more of further reading or explanation, here is a link to the IBJJF rule book or of course ask your coach or our staff for more information.
PHOTOS
When sharing your photos this weekend of the competition use #CPABJJTOURNAMENTVIII so we can all see the action!
For more information please email us on info@cpabjj.com.au or give us a call on 0478 733 276.